Newcastle Partners is a privately held, full service, commercial real estate investment and development company focusing exclusively in West Coast gateway marketplaces.
The company is vertically integrated and uniquely positioned to execute a variety of strategies to add value, including land entitlement, new construction, and asset repositioning to create and capture incremental value. Founded in 1999, the firm has established itself as an experienced investor/developer with superior risk-adjusted returns on behalf of a deep list of institutional and private investors.
Newcastle has completed the ground-up development of over 10 million square feet in 45 industrial/logistics projects in the greater Los Angeles region including the Inland Empire and Orange County. Newcastle has completed the acquisition and/or development of a diversified portfolio of over 63 projects totaling over 17,500,000 square fee representing a total investment of over $2.1 B.
Since its formation in 1999, Newcastle Partners and its affiliates have invested in over 63 projects totaling over 17,500,000 square feet, representing a total investment of over $2.1 B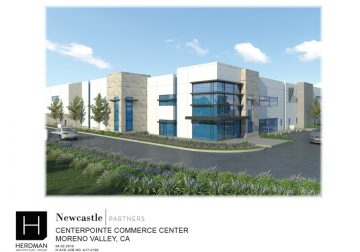 Irvine, CA (September, 2019) – Rockefeller Group, a leading real estate developer, owner and operator, announced today that it has broken ground on a 203,944 square foot speculative distribution center located on 8.78 acres of industrial land in Moreno Valley, Calif. The new building, which follows Rockefeller Group's recent completion of two million square feet of new industrial product in the Inland Empire, will be marketed as Centerpointe Commerce Center and is expected to be completed in summer 2020. "The strong market demand for small to medium-sized industrial buildings in the Inland Empire has continued unabated due to low vacancy rates," said Marc Berg, Vi... Read More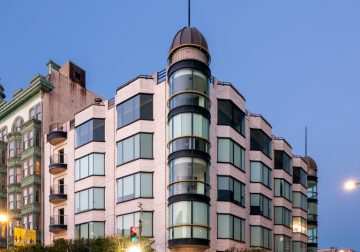 San Francisco, CA (September, 2019) – Newcastle Partners, Inc., a San Francisco-based real estate investment and development company, together with its partner Drake Real Estate Partners, has sold 900 Kearny Street, a 30,000-square-foot, six-story office building in San Francisco for $27 million. The asset is 100 percent occupied by EastWest Bank, Bitmami, and Novani, among others. The buyer was Brick and Timber Collective, LLC. Built in 1989, 900 Kearny is located in San Francisco's Jackson Square submarket, and is centrally located near public transportation, high-end retail and restaurants, and executive housing. "Jackson Square is strategically located at the... Read More