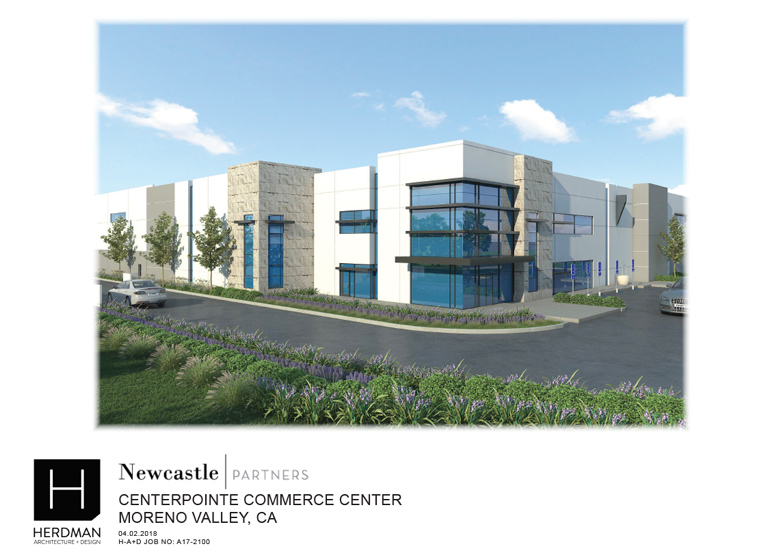 Irvine, CA (September, 2019) – Rockefeller Group, a leading real estate developer, owner and operator, announced today that it has broken ground on a 203,944 square foot speculative distribution center located on 8.78 acres of industrial land in Moreno Valley, Calif. The new building, which follows Rockefeller Group's recent completion of two million square feet of new industrial product in the Inland Empire, will be marketed as Centerpointe Commerce Center and is expected to be completed in summer 2020.
"The strong market demand for small to medium-sized industrial buildings in the Inland Empire has continued unabated due to low vacancy rates," said Marc Berg, Vice President and Regional Director for Rockefeller Group's West Region. "We're excited to begin construction and deliver a product to the marketplace that is state-of-the-art and ideal for e-commerce tenants looking for a new or expanded presence in the area."
Rockefeller Group acquired the property from Newcastle Partners, Inc. in April of this year. Newcastle pursued the required governmental approvals for the project beginning in October 2017, and successfully obtained the entitlements and zoning just prior to Rockefeller Group's purchase of the property.
"Newcastle Partners is pleased to have helped bring this promising project to fruition, and to have identified Rockefeller Group to advance the project into its next phase," said Jackson Smith, Partner with Newcastle Partners. "Without question, I anticipate this to be another high quality industrial facility in the heart of the Inland Empire which is the most active and in-demand industrial region in the country."
Rockefeller Group and Newcastle selected RM Dalton of Newport Beach, Calif. as general contractor. "RM Dalton is one of Southern California's premiere general contractors, with more than 25 years of experience building warehouses throughout this region and the western United States," said Michael Sajjadi, Vice President, Design & Construction. "We are looking forward to working closely with their team on this project."
Located on Frederick Street in Moreno Valley, the dock-high industrial building will feature 32-foot clear ceiling heights, 8,000 square feet of speculative office improvements, 106 auto-parking stalls and 26 trailer-parking stalls. Centerpointe Commerce Center will also offer convenient access to several major Southern California freeways including the I-215, SR-60, SR-91 and I-10. The property is also close to Ontario International Airport, the BNSF Intermodal Yard and the Ports of Los Angeles and Long Beach and is less than 1.5 miles from access to and from the I-215 Freeway.
Bill Heim, Finn Comer, Alex Heim and Nesha Ritchie of Lee & Associates are the exclusive leasing agents for Centerpointe Commerce Center. Herdman Architecture + Design, Inc. designed the project and SDH & Associates served as the project's civil engineer.
About Rockefeller Group:
Rockefeller Group is a leading real estate developer, owner and investor, known since the development of Rockefeller Center for pioneering large-scale urban mixed-use development. For 90 years, the company has been trusted for its financial strength, stability and vision, and today remains committed to the selective development of innovative, high-quality office, industrial, residential and mixed-use properties in urban centers and strategic distribution markets. Visit RockefellerGroup.com.
About Newcastle Partners:
Newcastle Partners is a privately held, full-service, commercial real estate investment and development company focusing exclusively in the greater Los Angeles and San Francisco marketplaces. The company is uniquely positioned to execute a variety of strategies to add incremental value, including land entitlement, new construction, and asset repositioning. Founded in 1999, the firm has established itself as an experienced investor/developer with superior risk-adjusted returns on behalf of a deep list of institutional and private investors.