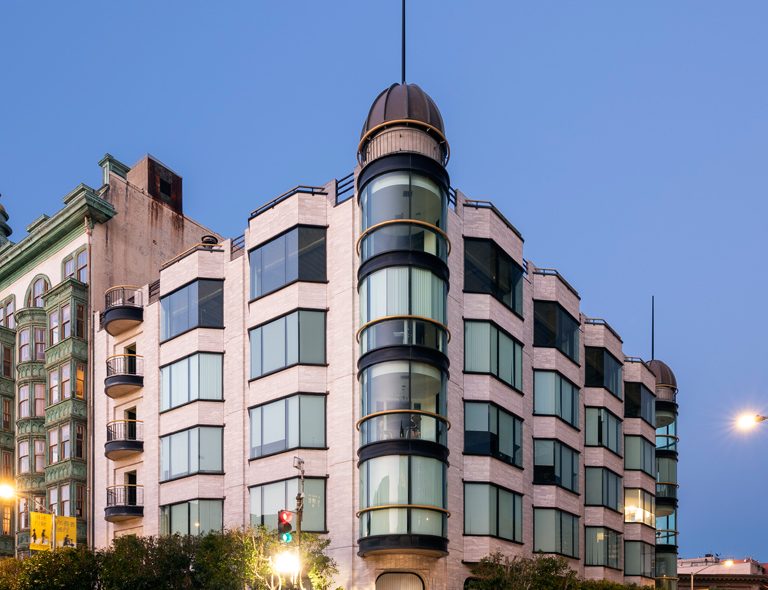 San Francisco, CA (September, 2019) – Newcastle Partners, Inc., a San Francisco-based real estate investment and development company, together with its partner Drake Real Estate Partners, has sold 900 Kearny Street, a 30,000-square-foot, six-story office building in San Francisco for $27 million. The asset is 100 percent occupied by EastWest Bank, Bitmami, and Novani, among others. The buyer was Brick and Timber Collective, LLC.
Built in 1989, 900 Kearny is located in San Francisco's Jackson Square submarket, and is centrally located near public transportation, high-end retail and restaurants, and executive housing.
"Jackson Square is strategically located at the intersection of North Beach, the north Financial District and China Town," said Dennis Higgs, managing partner and founder of Newcastle Partners. "With an office vacancy hovering around 3 percent, Jackson Square is a vibrant, thriving submarket that has proven to be the best in the city."
The Newcastle Partners joint venture acquired the asset in March 2017 for $17 million and embarked on adding significant value to the property by creating open office spaces and single-floor suites. The renovations sparked leasing interest and activity and resulted in the signing of several successful tech companies.
Higgs added, "San Francisco continues to see the highest rents and lowest vacancy in the country and Newcastle Partners will continue to pursue value-add and core office property opportunities here."
Ben Bullock, David Dokko and Thomas Foley of HFF represented Newcastle Partners in the sale.
About Newcastle Partners:
Newcastle Partners is a privately held, full-service, commercial real estate investment and development company focusing exclusively in the greater Los Angeles and San Francisco marketplaces. The company is uniquely positioned to execute a variety of strategies to add incremental value, including land entitlement, new construction, and asset repositioning. Founded in 1999, the firm has established itself as an experienced investor/developer with superior risk-adjusted returns on behalf of a deep list of institutional and private investors.
Newcastle has completed the acquisition and/or development of a diversified portfolio of over 55 projects totaling over 15 million square feet, representing a total investment of over $1.4 billion.
About Drake Real Estate Partners:
Drake Real Estate Partners is a real estate investment and asset management firm based in New York City. Drake seeks to invest in high quality, income-producing real estate assets at a significant discount to replacement cost, and drives value by focusing on repositioning, leasing, and improving operations. Drake uses the flexible, long term nature of its capital to its advantage by seeking out opportunities that have been overlooked by other investors.