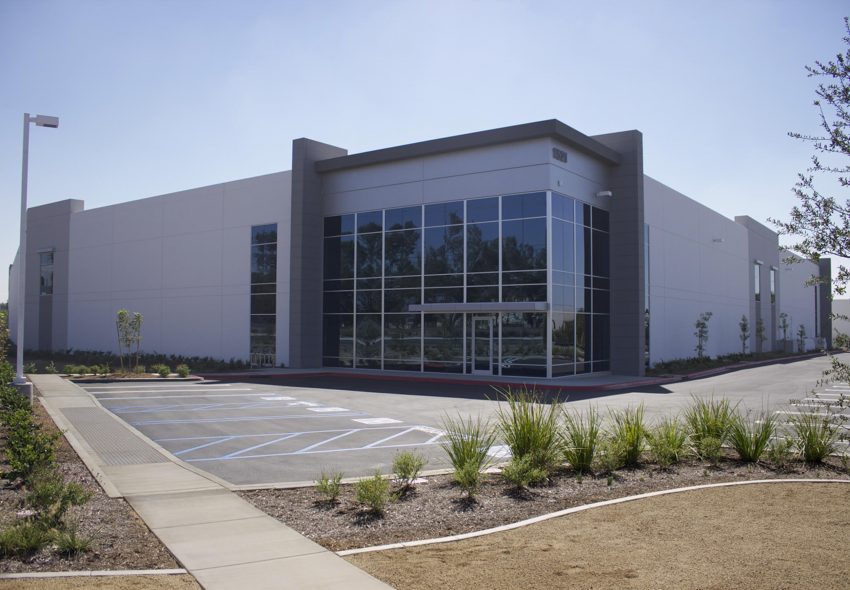 San Francisco, CA (September, 2016) – Newcastle Partners, Inc., a San Francisco-based real estate investment and development company, announced today it has sold Ontario Airport Distribution Center, a 102,440-square-foot Class A industrial property, for $12 million to an owner-user in Ontario, CA. Newcastle Partners completed construction on the facility this month. The buyer, Parter Medical Products, LLC, is a preeminent manufacturer of quality, single use, plastic, laboratory products for healthcare, medical and pharmaceutical research markets. With two locations in Carson, CA, this new facility is Parter's first in the Inland Empire.
The property is situated on 5.12 acres at 1521 South Hellman Avenue. It features 5,000 square feet of two-story executive office space, 30' minimum clearance height, 18 doc doors, one ground-level loading door, an ESFR sprinkler system, and offers immediate access to the 10, 15 and 60 freeways. Paul Earnhart of Lee & Associates represented the buyer. Jeff Bellitti and Mike McCrary of JLL represented Newcastle Partners.
Over the past two years, Newcastle has acquired, developed or sold in excess of 2 million square feet of industrial property in the region, and the firm plans to be even more aggressive for the balance of 2016.
"Newcastle continues to be bullish on developing quality industrial facilities in the Inland Empire," said Jackson Smith, partner with Newcastle Partners.
Smith added: "The Inland Empire market continues to be driven by logistics access and state-of-the-art industrial development. Additionally, the region was the fastest-growing job market in Southern California last year with a rate nearly double that of the national average. Businesses are attracted to state-of-the art product, and the obvious proximity to the ports of LA and Long Beach."
Below is an update on Newcastle's flurry of Inland Empire development activity of state-of-the art industrial property:
Nevada Corporate Center, Redlands, CA – Recent completion of construction on a 300,000 sf distribution building
Ontario, CA – Recently sold a 100,000 sf Class A industrial
Ontario, CA – Recently broke ground on a 150,000 sf warehouse facility at Harley Knox Boulevard with 215 Freeway frontage in Riverside, CA
San Bernardino, CA – Finalizing entitlements for a 550,000 sf facility on Waterman Avenue
Chino, CA – Finalizing entitlements for a 125,000 sf facility in Chino adjacent to the 71 Freeway
Chino, CA – Scheduled to break ground on a 78,000 sf facility on Schaefer Avenue in Chino this Spring with completion at the end of this year
Several other large parcels are under contract for eventual development
About Newcastle Partners: Newcastle Partners is a privately held, full service, commercial real estate investment and development company focusing exclusively in West Coast gateway marketplaces. The company is vertically integrated and uniquely positioned to execute a variety of strategies to add value, including land entitlement, new construction, and asset repositioning to create and capture incremental value. Founded in 1999, the firm has established itself as an experienced investor/developer with superior risk-adjusted returns on behalf of a deep list of institutional and private investors. Newcastle has completed the acquisition and/or development of a diversified portfolio of over 50 projects totaling over 15,000,000 square feet, representing a total investment of over $1.1 B.