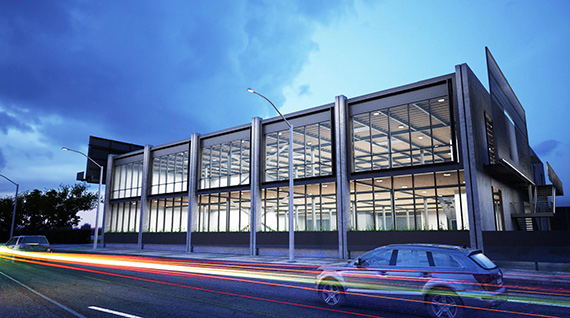 San Francisco, CA (July, 2017) – Newcastle Partners, a West Coast-based full-service commercial real estate investment and development company, in connection with Westport Capital Partners, a real estate investment firm specializing in distressed, opportunistic and core plus real estate investing, has announced the formation of a Joint Venture[1] for the acquisition of a two-story creative office building located at 5830 Rodeo Road in Los Angeles. The Joint Venture acquired the 40,000-square-foot office building from a commercial property user who has owned the building for approximately 30 years and is planning a full -scale renovation of the property.  First Property Corporation, Mike Geller and Josh Bernstein, will handle the leasing assignment with Shubin Donaldson and Del Amo Construction executing the property repositioning.
"We are very excited to be working with Newcastle Partners on the redevelopment of this transit oriented campus in Culver City," said Russ Bernard, Managing Principal, Westport Capital Partners.
After operating as an antique showroom and warehouse, the Property is now vacant allowing for an immediate value-add renovation to reposition the Property into creative office. The Property is located just east of the Hayden Tract of Culver City, a submarket recognized as one of the hottest submarkets on Los Angeles' Westside.
"Culver City has emerged as a transit-oriented core submarket for tech, media, and entertainment users in West LA.  5830 Rodeo is within walking distance of the La Cienega Expo stop, which is significant for millennials as they become the dominant part of our professional workforce.  This building has great bones for a creative office conversion and the large 20,000-square-foot rectangular floor plates are right in the sweet spot for user demand," said Brad Cummings, partner, Newcastle Partners.
About Newcastle Partners: Newcastle Partners is a privately held, full service, commercial real estate investment and development company focusing exclusively in West Coast gateway marketplaces. The company is vertically integrated and uniquely positioned to execute a variety of strategies to add value, including land entitlement, new construction, and asset repositioning to create and capture incremental value. Founded in 1999, the firm has established itself as an experienced investor/developer with superior risk-adjusted returns on behalf of a deep list of institutional and private investors. Newcastle has completed the acquisition and/or development of a diversified portfolio of more than 50 projects totaling over 15 million square feet, representing a total investment of over $1.1 billion.  Learn more at www.newcastlepartners.com.
About Westport Capital Partners LLC: Westport Capital Partners LLC is a real estate investment firm focusing on adding value to real estate and "hands-on" solutions to complex situations. Westport provides domestic and international real estate related investment opportunities to institutional and private clients. Through its various funds, the firm invests in a wide variety of distressed, opportunistic and core plus real estate assets. The firm has offices in Los Angeles, California, Wilton, Connecticut, Bozeman, Montana and London, England. For more information regarding Westport Capital Partners LLC, please visit westportcp.com.
[1] The office building was acquired by a joint venture owned by certain funds managed by Westport Capital Partners LLC and Newcastle Partners.