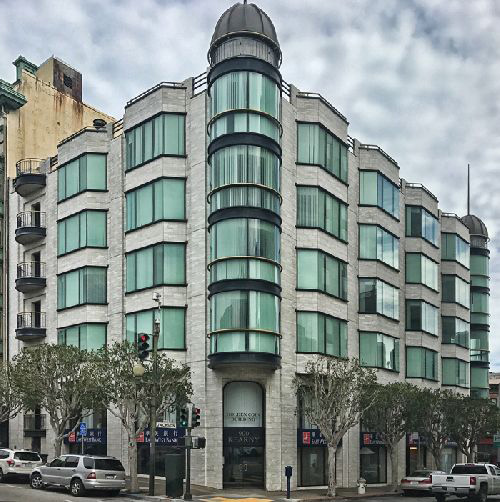 San Francisco, CA (June, 2017) – Newcastle Partners, a West Coast- based full-service commercial real estate investment and development company, in connection with Drake Real Estate Partners, a NY-based real estate and investment management firm, has announced the acquisition of 900 Kearny Street, a 30,000-square-foot, six-story office building in San Francisco. Newcastle acquired the property via an off-market transaction from a local family that has owned the building since 1991. At 80 percent leased, 900 Kearny is home to a diverse group of ten commercial office and retail tenants. The new ownership plans to undertake a value-add creative office renovation business plan.
"Drake is excited to kick off its programmatic partnership with Newcastle with this acquisition, and unlock the full potential of fantastic real estate that is located in the path of growth," said Martin Pawlik, vice president, Drake Real Estate Partners.
Located in San Francisco's Jackson Square submarket, 900 Kearny is centrally located to public transportation, high-end retail and restaurants, and executive housing. Additionally the under construction Chinatown central subway, scheduled to be operational in early 2019, will significantly add to the attraction of the submarket, bringing in potentially thousands of employees from all parts of the city.
"We really like 900 Kearny as a contrarian business plan to the traditional Transbay Terminal large corporate-user buildings. Jackson Square is now a hotbed of high-end VC and private equity firms. We intend to gradually build out each space that comes available to a full, open ceiling, creative office design. It will be a dramatic improvement to the current look. The bones of the building and submarket location are exactly what we want for our portfolio," said Dennis Higgs, managing partner, Newcastle Partners.
"This building suits the tenant base well. Our 5,000-square-foot side core floor plates with three sides of natural light and newer steel -frame construction are pretty unique for this submarket," said Brad Cummings, partner, Newcastle Partners.
The acquisition of 900 Kearny complements Newcastle Partners' collection of boutique office properties in the Jackson Square submarket, which include 555 Clay Street and 580 Pacific Avenue.
Michael Gschwend of Kidder Mathews said, "As the building's creative features are uncovered, we feel that 900 Kearny will appeal to a wide range of users. We are excited that Newcastle has recognized that this building is one of the high-quality office properties in Jackson Square and is committed to repositioning the asset." Kidder Mathews will handle leasing for the building.
About Newcastle Partners: Newcastle Partners is a privately held, full service, commercial real estate investment and development company focusing exclusively in West Coast gateway marketplaces. The company is vertically integrated and uniquely positioned to execute a variety of strategies to add value, including land entitlement, new construction, and asset repositioning to create and capture incremental value. Founded in 1999, the firm has established itself as an experienced investor/developer with superior risk-adjusted returns on behalf of a deep list of institutional and private investors. Newcastle has completed the acquisition and/or development of a diversified portfolio of more than 50 projects totaling over 15 million square feet, representing a total investment of over $1.1 billion. Learn more at www.newcastlepartners.com.
About Drake Real Estate Partners: Drake Real Estate Partners is an opportunistic real estate investment management firm headquartered in New York, NY that focuses on value-add opportunities across the U.S. Drake has invested in more than $800 million of real estate across over 30 investments that span a variety of asset classes, including industrial, multifamily, retail, self storage, office and hospitality.