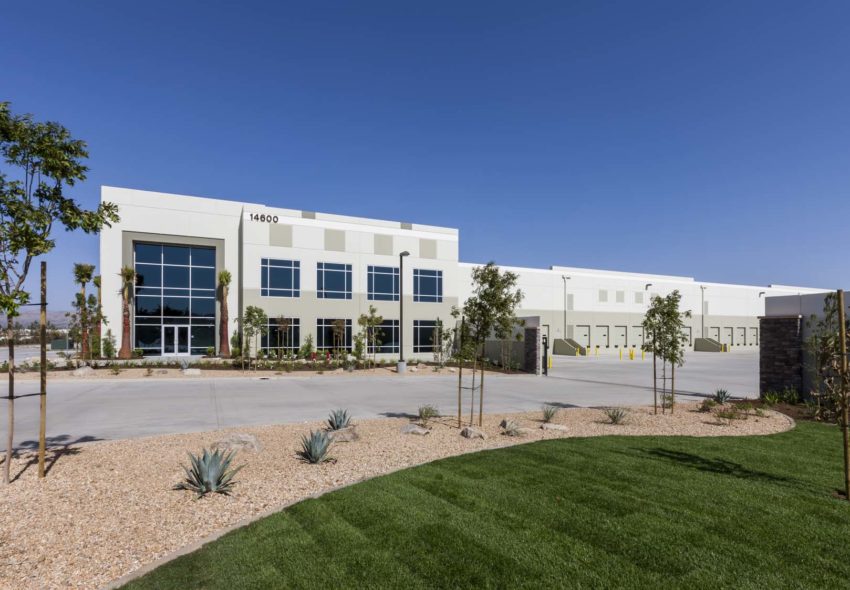 San Francisco, CA (November, 2014) – Newcastle Partners, Inc., a San Francisco-based real estate investment and development company, has announced the $43.5 million sale of a 600,000- square-foot industrial property that is situated on 26.95 acres within Meridian Business Park in Riverside, a city within the Inland Empire region of Southern California. Newcastle Partners completed construction of the property, located at 14600 Innovation Drive, in late 2013.
Phil Lombardo and Chuck Belden of Cushman & Wakefield represented Newcastle Partners as well as the China-based buyer, Scuderia Development, LLC. The buyer plans to occupy the facility for use in warehousing and distribution of aluminum products.
The Class A distribution facility includes 4,160 square feet of office space, 93 dock-high doors, two grade-level ramps, 145 trailer storage stalls, 245' secured truck court, ESFR sprinkler system, 32' warehouse clearance, 400 amp service expandable to 4,000 UGPS and is LEED Silver certified.
"The Inland Empire is the hotbed of opportunity for industrial users and Newcastle Partners has made a long-term commitment to providing innovative facilities that meet their needs," said Dennis Higgs, Newcastle Partners' Managing Partner and Founder. "This sale is significant for us as it is the first building sold that we have developed within Meridian Business Park. This disposition is testimony to the economic recovery and continued growth of the region."
Meridian Business Park is a 1,290-acre master-planned commerce center that includes major corporate users including Sysco Corp., Yucaipa Company (Fresh & Easy), Kia Motors, and McLane Foodservice.
"This property provided Scuderia with freeway frontage, immediate access to the 215 Freeway and nearby retail amenities, as well as a high-profile location near other major corporate neighbors," commented Jackson Smith, who heads Southern California operations for Newcastle Partners. "We will continue to seek out strong, freeway-close industrial user locations over the next several years to meet the demand we see coming down the pipeline."
Newcastle Partners has a total of 1.37 million square feet of speculative Class A building activity at Meridian Business Park. The firm recently began construction on 13 acres of land for an industrial distribution facility totaling 260,000 square feet with completion anticipated for fall of 2015, as well as a 510,000-square-foot distribution building with completion expected in the fourth quarter of 2015.
About Newcastle Partners: Newcastle Partners is a privately held, full service, commercial real estate investment and development company focusing exclusively in West Coast gateway marketplaces. The company is vertically integrated and uniquely positioned to execute a variety of strategies to add value, including land entitlement, new construction, and asset repositioning to create and capture incremental value. Founded in 1999, the firm has established itself as an experienced investor/developer with superior risk-adjusted returns on behalf of a deep list of institutional and private investors. Newcastle has completed the acquisition and/or development of a diversified portfolio of over 50 projects totaling over 15,000,000 square feet, representing a total investment of over $1.1 B.